Last updated: Friday, November 13, 4:13 PM EST.
Earlier this week, the Government of Ontario announced its Keeping Ontario Safe and Open Framework. The framework categorizes public health unit regions into five levels: Green-Prevent, Yellow-Protect, Orange-Restrict, Red-Control, and Lockdown being a measure of last and urgent resort. Each level outlines the types of public health and workplace safety measures for businesses and organizations. These include targeted measures for specific sectors, institutions and other settings.
The decision to move a region into a particular stage and apply the associated public health measures will consider a range of indicators, including the weekly case incidence rate, the percentage of tests coming back positive, movement or lack of in the level of community transmission, outbreak activity, and hospital and public health capacity. Read the framework for more information.
​​​​​Public Health Unit Region Classifications – Last updated November 13, 2020 at 4:13 PM.

*These changes will come into effect as of Monday, November 16, 2020 at 12:01 a.m
Lockdown:
No public health unit regions.
Red-Control:
City of Hamilton Public Health Services*;
Halton Region Public Health*;
Peel Regional Health Unit;
Toronto Public Health* (effective Saturday, November 14, 2020 at 12:01 a.m.);
York Region Public Health*.
Orange-Restrict:
Brant County Health Unit*;
Durham Region Health Department*;
Eastern Ontario Health Unit*;
Niagara Region Public Health*;
Ottawa Public Health;
Region of Waterloo Public Health and Emergency Services*;
Wellington-Dufferin-Guelph Public Health*.
Yellow-Protect:
Haldimand-Norfolk Health Unit;
Huron Perth Public Health*;
Middlesex-London Health Unit*;
Simcoe Muskoka District Health Unit;
Public Health Sudbury and Districts*;
Southwestern Public Health*;
Windsor-Essex County Health Unit*.
Green-Prevent:
Algoma Public Health;
Chatham-Kent Public Health;
Grey Bruce Health Unit;
Haliburton, Kawartha, Pine Ridge District Health Unit;
Hastings and Prince Edward Counties Public Health;
Kingston, Frontenac and Lennox and Addington Public Health;
Lambton Public Health;
Leeds, Grenville and Lanark District Health Unit;
North Bay Parry Sound District;
Northwestern Health Unit;
Peterborough Public Health;
Porcupine Health Unit;
Renfrew County and District Health Unit;
Thunder Bay District Health Unit;
Timiskaming Health Unit.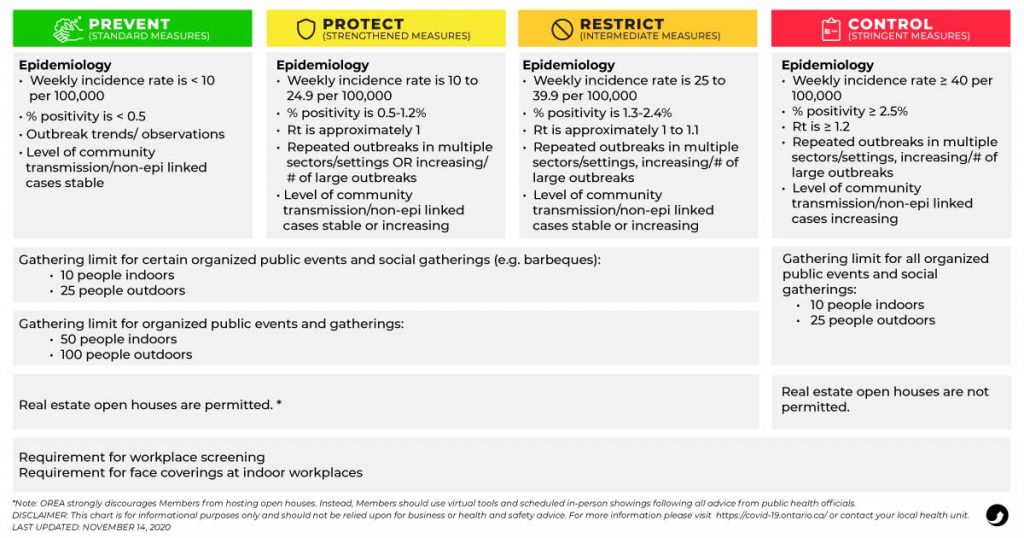 What is the impact on open houses?
The Government has clarified that open houses are permitted effective Saturday, November 7th, 2020 in regions in levels Green-Prevent, Yellow-Protect and Orange-Restrict.
If you are trading in regions listed under those three levels, open houses are legally permitted by the Province provided they follow all precautions suggested by public health officials.
When regions enter levels Red-Control, and Lockdown, open houses will not be permitted. Under level Red-Control, the Province has indicated that scheduled in-person showings are allowed provided they follow all health and safety guidelines. Peel region is in level Red-Control. Toronto region will be in level Red-Control effective Saturday, November 14, 2020 at 12:01 AM. The regions of Hamilton, Halton, and York will move into Red-Control on Monday, November 16, 2020 at 12:01 AM.
This new framework removes restrictions on open houses that were put in place in October in Ottawa. Open houses are now, under the current public health unit region classifications, effectively permitted Province-wide. Please note however, these classifications will change over time and OREA strongly advises that Members their local public health unit to confirm information related to get requirements under the new framework.
Also, please note, that requirements for workplace screening and for face coverings at indoor workplaces are mandated in all four levels of the Province's framework. For more information on workplace screening and how to do it safely visit OREA's guidance for brokerage and real estate board offices here.
Guidance for Members on Open Houses
While open houses will be permitted in Ottawa, OREA, the Toronto Regional Real Estate Board (TRREB) and the Ottawa Real Estate Board (OREB) continue to urge Members to use virtual tools first and and to the greatest extent possible. Moreover, OREA, TRREB and OREB continue to advise Members that person showings are okay by appointment for pre-qualified clients, following public health guidelines.
While, under normal circumstances, open houses would be an effective tool for marketing a home, there are many options available to view properties which pose less health and safety risk to Members and clients. We will continue to advise Members against hosting open houses until the pandemic is under better control in Ontario.
For guidance on conducting a safe in-person showing, visit OREA's COVID-19 Information hub.
Thank you for showing outstanding resilience in adapting to new and ever-changing regulations around safety protocols related to open houses. Let's continue to keep our clients and communities safe by using technological alternatives first and as much as possible.
As always, thank you and stay safe everyone!
Sincerely,
Sean Morrison
OREA President

The trademarks REALTOR®, REALTORS®, and the REALTOR® logo are controlled by The Canadian Real Estate Association (CREA) and identify real estate professionals who are members of CREA.
Disclaimer. The information contained in this email is not meant to be relied upon as legal advice by REALTORS®, or others. Members wishing further clarity or advice should seek independent legal advice specific to their circumstances. Due to the quickly changing regulatory environment during the COVID-19 emergency, this information may not be current or accurate by the time it is read.