Ontario Enters First Stage of its Reopening Plan
Last updated: Friday, June 11, 2021 @ 12:25 PM. 
Today, Ontario enters Step One of its Roadmap to Reopening. Step One of the Roadmap focuses on the resumption of more outdoor activities with smaller crowds where risk of transmission is lower. It will also permit more limited indoor settings to be open, all with restrictions in place.
It is encouraging to see the province begin to lift public health measures in certain settings, but it remains critical that all Ontarians continue to follow public health advice.
What does Step One mean for real estate? 
Short-Term Rentals
In Step One, short-term rentals can be booked as the restriction on booking short-term rentals for recreational purposes is lifted.
Property Showings and Open Houses
Under Step One, there are no changes to rules governing property showings or Open Houses.
When it comes to property showings and meetings with clients, REALTORS® should continue to follow all existing public health guidelines, limit in-person business as much as possible, use virtual tools and conduct scheduled showings only. OREA's Guidance for Safe In-Person Showings is available on OREA's COVID-19 Information Hub.
Open houses remain prohibited in Step One. The Province has announced that it is planning on permitting open houses under Step Three. OREA is currently advising the government on open houses and Step Three of the Reopening Plan. We are surveying Members to collect their feedback and will be communicating it to government.
Do you think the Government should permit open houses under Step Three (late July)? Tell us by taking the survey emailed to you last week.
If you are not yet a Member of OREA's Research Community, click the link below to complete a 3-minute introduction survey to register. Once completed, you'll receive an email to confirm your registration.
Inter-Provincial Travel Still Restricted
The ban on interprovincial travel will remain in place until June 16 as part of the Government's emergency measures. The ban, which applies to non-essential travel, affects Ontario's land boundaries with Manitoba and Quebec.
OREA Members can cross interprovincial borders for essential business purposes. OREA has drafted template letters to support Members in navigating border checkpoints.
Residential Evictions Resume
On June 2nd, with the end of the Stay-At-Home Order, the government also ended the pause on the enforcement of resident evictions. That means that eviction orders for all tenancies subject to the Residential Tenancies Act (RTA) have resumed.
The Landlord and Tenant Board (LTB) is carrying on most of its business using virtual video conferencing tools. Members who own investment properties or who are supporting clients, can visit the LTB website to learn more.
According to the Government, if the stay-at-home order is extended or reintroduced, be it province-wide or focused on specific regions, the suspension of residential eviction enforcement could be extended as well.
Looking Ahead
OREA has reached out to its key contacts in government and assembled the below information about what else Members can expect from the Province's Reopening Roadmap when it comes to real estate.
The Roadmap to Reopen is a three-step plan to safely and cautiously reopen the province and gradually lift public health measures.
The plan is based on:
The province-wide vaccination rate
Improvements in key public health and health care indicators
Members looking for more general information should go to the Ontario Government's website.
Note: This timeline and the below information is subject to change. OREA will communicate updates to Members when new information comes to light.
​​​​​​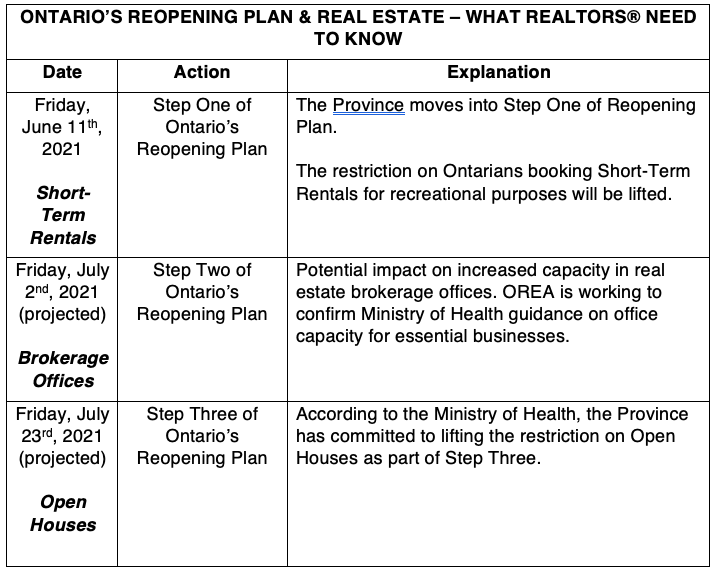 Disclaimer. The information contained in this post is not meant to be relied upon as legal advice by REALTORS®, or others. Members wishing further clarity or advice should seek independent legal advice specific to their circumstances. Due to the quickly changing regulatory environment during the COVID-19 emergency, this document may not be current or accurate by the time it is read.